loved+blessed is a monthly membership and care package for Christian women.
Our mission is to help you stay encouraged no matter what happens in life. We help you choose joy daily by providing encouragement, community and spiritual growth.
Are you struggling to be happy?
Are you feeling discouraged or stuck in a difficult season in your life?
Do you long for a community of supportive women who will pray for you?
Do you search for words of encouragement to strengthen your faith?
Would you enjoy receiving care packages that remind you that everything is going to be okay?
then we've got good news, loved+blessed is perfect for you.
As a member you'll receive….
Each month we focus on a different topic with a God-inspired right-on-time message to help you grow in your faith through the best and the worst of times.
Testimonials from the COMMUNITY
ENCOURAGEMENT in every box
Every month, members receive a box of encouragement with a brand new theme not available in our shop. The items in our boxes are designed by the loved+blessed team of encouragers and are not available anywhere else.
Receive your monthly box and download your workbook
Watch the weekly course and fellowship in the community
Be encouraged, grow in faith, and pass hope on
When you join loved+blessed you'll…
grow in your faith and trust God more

make new friends and be supported by a community of caring women

find the encouragement you need for specific situations in your life

learn how to stay encouraged so that nothing can steal your joy
With every box we ship, a donation is made to support and encourage women who are experiencing homelessness.
The Union Rescue Mission Hope Gardens Family Center helps women transition from homelessness to independence within 12 to 36 months by offering long-term rehabilitation programs, services, and spiritual care. Precious women and children have a safe place to live while they receive counseling, training, encouragement, and the real help they need to escape homelessness forever.
Life is tough.
I know the struggle is real.
When my lifelong dream of motherhood was devastated by infertility, I found myself depressed, discouraged and feeling alone. BUT GOD had another plan for me. It was during this season that loved+blessed was born. Your struggle may not be infertility, but no matter what it is, loved+blessed was created to encourage you that there is always hope.
xo Jamila

There is no need to suffer alone anymore.
Join the community today and start getting encouragement delivered.
Join the community for women who want to live life encouraged!
Over 41,000 boxes have been delivered to doorsteps nationwide.
Boxes ship around the 22nd of each month.
We start a new topic on the 1st.
Join before the next box ships!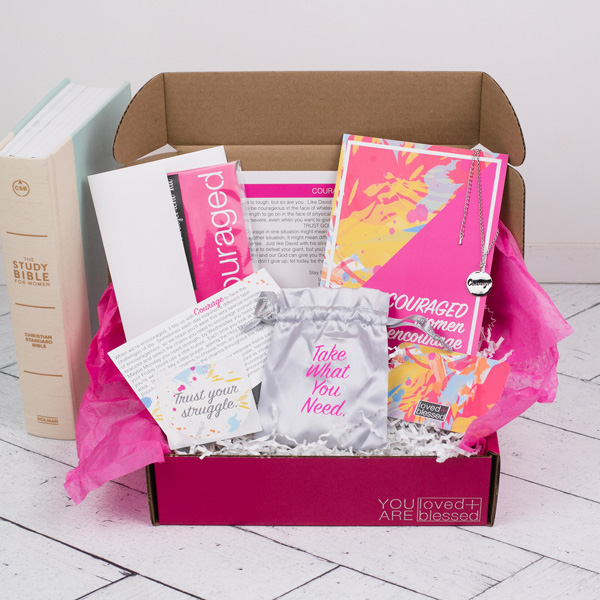 Pay monthly and receive:
1 box of encouragement

1 blog post

1 four week workbook

4 video lessons

online community fellowship

access to over 40 videos and 10 workbooks in the membership library (a $250 value)
Pay quarterly, SAVE $15 and receive:
3 boxes of encouragement

3 blog posts

3 four week workbooks

12 video lessons

online community fellowship

access to over 40 videos and 10 workbooks in the membership library (a $250 value)
Memberships automatically renew. Skip or cancel at any time. Gifts do not renew. U.S shipping included. International S&H rates vary.